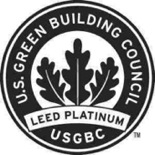 NOTE: This webpage is no longer being updated. It was last updated in 2012.
This page lists building projects worldwide that had achieved LEED Platinum certification, to the best of our knowledge (as of the page's last full update in mid-2012). As of that time, more than 1,080 projects—across 25 countries and 49 U.S. states—had been rated Platinum: the highest LEED rating. Buildings (and homes and offices) that have attained this rigorous level of LEED certification are among the greenest in the world. (Another certification, which is considered an even higher bar to reach than LEED Platinum, is the Living Building Challenge.)
NOTE: This is not a list of projects that M. Landman Communications & Consulting was involved in; this is a listing of all known LEED Platinum projects. The listing is primarily compiled and updated from the information that is provided in the searchable Certified Projects database at USGBC.org. (The listing does not include projects that have been designated as Confidential.)
If you know of a project that has achieved LEED Platinum certification from USGBC/GBCI, but that is not yet listed here, please notify us.

UNITED STATES
AK AL AR AZ CA CO CT DC DE FL GA HI IA ID IL IN KS KY LA MA MD ME MI MN MO MS MT NC ND NE NH NJ NM NV NY OH OK OR PA RI SC SD TN TX UT VA VT WA WI WV WY PR

[Jump to the bottom of this page to see a list of projects in other countries.]

Alabama
• Habitat for Humanity of Athens, two affordable homes, Athens, AL (LEED H)

Alaska
• Cold Climate Housing Research Center, Fairbanks, AK (LEED NC v2.1)
• Denali National Park Eielson Visitors Center, AK (LEED NC v2.2)

Arizona
• Arizona State University's Arizona Biodesign Institute, Phase 2, Tempe, AZ (LEED NC v2.1)
• Arizona Department of Game and Fish Headquarters, Phoenix, AZ (LEED NC v2.1)
• Energy Systems Design office, Scottsdale, AZ (LEED CI v2009)
• Gateway Access Area, Scottsdale, AZ (LEED NC v2.2)
• Grand Canyon National Park's South Rim Village employee housing (64 units; low-rise), South Rim Grand Canyon National Park, AZ (LEED H)
• Habitat for Humanity single-family affordable home, Chandler, AZ (LEED H)
• Habitat for Humanity single-family affordable home, Gilbert, AZ (LEED H)
• Habitat for Humanity (Prescott Area) single-family affordable home, Chino Valley, AZ (LEED H)
• Habitat for Humanity Central Arizona single-family affordable home, Glendale, AZ (LEED H)
• Habitat for Humanity Central Arizona single-family affordable homes (4), Phoenix, AZ (LEED H)
• Lee H. Brown Conservation Learning Center, City of Tucson, AZ (LEED NC v2.1)
• Museum of Northern Arizona Collection Center, Flagstaff, AZ (LEED NC v2.1)
• Northern Arizona University's Applied Research & Development Facility, Flagstaff, AZ (LEED NC v2.1)
• Private residence (Architectural and Environmental Assoc.), Bellemont, AZ (LEED H)
• Private residence (Desert Star Construction), Paradise Valley, AZ (LEED H)
• Private residence (gut rehab, Shairon Beale), Scottsdale, AZ (LEED H)
• Private residence (Hillis Bolte Luxury Builders), Scottsdale, AZ (LEED H)
• Private residence (Lutz Construction), Tucson, AZ (LEED H)
• Rio Salado Audubon Center, Phoenix, AZ (LEED NC v2.2)
• Scottsdale Fire Station 2, Scottsdale, AZ (LEED NC v2.1)
• University of Arizona Student Recreation Building, Tucson, AZ (LEED NC v2.2)
• USAA Phoenix, Phoenix, AZ (LEED EBOM v2009)
• White Tank Branch Library, Surprise, AZ (LEED NC v2.2)

Arkansas
• Eco Modern Flats (24 apartment units), Fayetteville, AR (LEED H)
• Heifer International Center, Little Rock, AR (LEED NC v2.1)
• Private residence (Chris Ladner), Little Rock, AR (LEED H)
• Stitt Energy Systems, Inc. (SESI) Renovation and Addition, Rogers, AK (LEED NC v2.2)
• Vertical Modern Urban Lofts development (7 attached loft homes, Phase I, Smart Structures), Little Rock, AR (LEED H)
• William J. Clinton Presidential Center, National Archives and Records Administration, Little Rock, AR (LEED EB v2.0)

California
• 1 Bush Street, San Francisco, CA (LEED EBOM v2009)
• 50 Fremont Street, San Francisco, CA (LEED EBOM v2009)
• 101 California Street (Hines building), San Francisco, CA (LEED EBOM v2009)
• 343 Sansome Street, San Francisco, CA (LEED EBOM)
• 550 South Hope, Los Angeles, CA (LEED EBOM 2009)
• 560 Mission Street, San Francisco, CA (LEED EBOM v2009)
• 630 Garden Street, City of Santa Barbara, CA (LEED EBOM)
• 655 Montgomery, Montgomery Washington Tower, San Francisco, CA (LEED EBOM v2009)
• Adobe Systems, Inc. 601 Townsend St., San Francisco, CA (LEED EB v2.0 + EBOM recertification)
• Adobe Systems, Inc. 625 Townsend St., San Francisco , CA (LEED EBOM)
• Adobe Systems, Inc. Almaden Tower, San Jose, CA (LEED EB v2.0 + EBOM recertification)
• Adobe Systems, Inc. East Tower, San Jose, CA (LEED EB v2.0)
• Adobe Systems, Inc. West Tower, San Jose, CA (LEED EB v2.0 + EBOM recertification)
• Alameda County Waste Management Authority (StopWaste) Building, 1537 Webster St., Oakland, CA (LEED NC v2.2)
• Aquarium of the Pacific, Watershed Exhibit and Classroom, Long Beach, CA (LEED NC v2.1)
• Audubon Center at Debs Park, National Audubon Society, Los Angeles, CA (LEED NC v2.0)
• AT&T Foundry interiors, Palo Alto, CA (LEED CI v2009)
• Autodesk Office, San Francisco, CA (LEED CI v2.0)
• Autodesk Office, One McInnis, San Rafael, CA (LEED CI v2009)
• Autumn Terrace mixed-use affordable housing development (103 units), San Marcos, CA (LEED H)
• Aventine Office Building, La Jolla, CA (LEED EBOM)
• Bardessono Hotel, Restaurant, and Spa, Yountville (Napa Valley), CA (LEED NC v2.2)
• Belles Townhomes (7 homes), Presidio, San Francisco, CA (LEED H)
• Berkeley-Albany YMCA Teen Center, Berkeley, CA (LEED NC v2.2)
• Cabrillo College's Solari Green Technology Center, Watsonville, CA (LEED NC v2.2)
• California Academy of Sciences, San Francisco, CA (LEED NC v2.1 and LEED EBOM v2009)
• California Department of Education Building 049, California Department of General Services, Sacramento, CA (LEED EB v2.0)
• California Department of General Services' Central Plant renovation, Sacramento, CA (LEED NC v2.2)
• CalSTRS, West Sacramento, CA (LEED EBOM v2009)
• Cambridge Plaza (4 townhouse units), Palo Alto (LEED H)
• Campus Point, San Diego, CA (LEED CS v2.0)
• Casa Dominguez affordable housing (70 units), East Rancho Dominguez (Los Angeles County), CA (LEED H)
• Cate School faculty homes (5), Carpinteria, CA (LEED H)
• Chabot Community College: Community and Student Services Center, Hayward, CA (LEED NC v2.2)
• Chartwell School, Seaside, CA (LEED NC v2.1)
• Cisco Tower, Mission Towers (II), Santa Clara, CA (LEED EBOM)
• Citadel Environmental, Glendale, CA (LEED CI v 2.0)
• CityView apartments (161 units), 2700 Figueroa (near USC), Los Angeles, CA (LEED H)
• Claire's on Cedros restaurant and cafe/bakery, Solana Beach, CA (LEED CS v2.0)
• CLIF Bar Headquarters interiors, Emeryville, CA (LEED CI v?)
• ClimateWorks Foundation, San Francisco, CA (LEED CI v2.0)
• Comcast Operations Center, Sonoma Mountain Village, Rohnert Park, CA (LEED CI v2.0)
• Costa Mesa Sanitary District, Costa Mesa, CA (LEED NC v2.2)
• CSU (California State University) Fullerton: Student Housing Phase III, Fullerton, CA (LEED NC v2.2)
• David Brower Center, Berkeley, CA (LEED NC v2.1)
• David and Lucile Packard Foundation, Second St., Los Altos, CA (LEED NC v2009) • Digital Realty Trust 1201 Comstock data center, Santa Clara, CA (LEED CI v2.0)
• Digital Realty Trust 1525 Comstock data center, Santa Clara, CA (LEED CI v2.0)
• DPR Construction San Diego, San Diego, CA (LEED NC v2.2)
• Dundee home, Los Angeles, CA (LEED H)
• The Energy Foundation Offices, San Francisco, CA (LEED CI v2.0)
• Environmental Nature Center, Newport Beach, CA (LEED NC v2.2)
• Ernst and Young Plaza, Los Angeles, CA (LEED EBOM v2009)
• Fenwick & West LLP Data Center, Mountain View, CA (LEED CI v2009)
• Fourth Street Apartments (100 units of low-income housing), San Jose, CA (LEED H Mid-Rise)
• Frito-Lay Los Angeles, Torrance, CA (LEED EBOM v2009)
• Frontier Project, Cucamonga Valley Water District, Rancho Cucamonga, CA (LEED NC v2.2)
• FullBloom Bakery, Newark, CA (LEED CI v2.0)
• Glendale Pacific Park Pool, Glendale, CA (LEED NC v2009)
• Glumac Engineering Office Building, Folsom, CA (LEED NC v2.2)
• The Gordon and Betty Moore Foundation Office, Palo Alto, CA (LEED CI v2.0)
• Gottfried (former) residence (renovation), Oakland, CA (LEED H)
• Habitat for Humanity affordable single-family home, Riverside, CA (LEED H)
• Habitat for Humanity East Bay: 3 affordable single-family homes, Oakland, CA (LEED H)
• Herman Miller Showroom, Los Angeles, CA (LEED CI v2.0)
• High Tech High's K-8 School, Chula Vista, CA (LEED for Schools v2009)
• Inland Empire Utilities Agency, Chino, CA (LEED NC v2.0)
• Integral Group's Deep Green Office, Oakland, CA (LEED CI v2009)
• Ivy Terrace affordable housing development (52 units), Van Nuys, Los Angeles, CA (LEED H)
• Jacobs, Irvine, CA (LEED CI v2009)
• Joe Serna Jr. Cal/EPA Headquarters Building, Sacramento, CA (LEED EB Pilot and LEED EBOM re-certification)
• Kirsch Center for Environmental Studies, Foothill-De Anza Community College, Cupertino, CA (LEED NC v2.1)
• LD Products Corporate Headquarters, Long Beach, CA (LEED NC v2009)
• Lake View Terrace Branch Library, Sylmar, CA (LEED NC v2.0)
• Lancaster Net-Zero-Energy Live/Work demonstration townhome (ZETA Communities), Oakland, CA (LEED H)
• Lassen Volcanic National Park Visitor Center, National Park Service, Mineral, CA (LEED NC v2.2)
• Linde Robinson Laboratory, Pasadena, CA (LEED NC v2.2)
• Live Oak Resource Center, Santa Cruz, CA (LEED NC v2.2)
• LivingHomes Z6 House, Santa Monica, CA (LEED H v1)
• LivingHomes home, Newport Beach, CA (LEED H)
• LivingHomes multi-family development, Los Altos, CA (LEED H)
• Los Angeles Firemen's Credit Union, Los Angeles, CA (LEED CI v2009)
• Los Vecinos affordable solar-powered apartments (42 units), Chula Vista, CA (LEED H)
• Margarido House single-family home, Oakland, CA (LEED H)
• Manteca Senior Housing (52 units, affordable, low-rise), Manteca, CA (LEED H)
• Marin Country Day School (Step 2: Learning Resource Center), Corte Madera (LEED for Schools)
• Marine Corps Base Camp Pendleton: P-043 Bachelor Enlisted Quarters (BEQ); P-046 BEQ; P-160 BEQ; P-242 BEQ; P-357 BEQ; P-1112 BEQ; P-1114 BEQ; Wounded Warrior P-1005 BEQ; Wounded Warrior P-060 Hope and Care Center; Wounded Warrior P-1100 Battalion HQ; Naval Facilities SQ P-726 Engineering Maintenance Bldg; P-726 HQ; and P-726 Storage and Applied Instruction; Oceanside, CA (LEED NC v2.2)
• Marine Corps Air Station: P-176V HRSC Consolidation, San Diego, CA (LEED NC v2.2)
• Marine Corps Recruit Depot: P-294 GTF Recruit Barracks; and P-293/P-316 Recruit Barracks and Recon Facility; San Diego, CA (LEED NC v2.2)
• Marine Corps Logistics Base, P-167 Bachelor Enlisted Quarters, Barstow, CA (LEED NC v2.2)
• Mills College's Betty Irene Moore Natural Sciences Building, Oakland, CA (LEED NC v2.1)
• Miramar College Police Substation, San Diego, CA (LEED NC v2.2)
• Monterey College of Law, Courtroom Building, Seaside, CA (LEED NC v2.2)
• Moraga Barn, Moraga, CA (LEED NC v2.2)
• NASA Sustainability Base, NASA Ames Research Center, Moffett Field, CA (LEED NC v2.2)
• Natural Resources Defense Council's Southern California Office, The Robert Redford Building, Santa Monica, CA (LEED NC v2.0)
• Nove townhouses (9 units), San Francisco, CA (LEED H)
• Ohlone Community College's Newark Center for Health Sciences and Technology, Newark, CA (LEED NC v2.1)
• The Orrick Building, San Francisco, CA (LEED EBOM v2009)
• Parkside Apartments affordable housing (77 units), San Diego (LEED H)
• Peets Coffe and Tea, Cotati, CA (LEED NC v2009)
• Pinnacles National Monument West Side Visitor Center, Paicines, CA (LEED NC v2.2)
• Pitzer College Student Housing Phase II, Claremont, CA (LEED NC v2009)
• Pomona College's Sontag Hall and Pomona Hall dorms, Claremont, CA (LEED NC v2.2)
• Portola Valley Town Center, Portola Valley, CA (LEED NC v2.2)
• Primera Terra condo subdivision (52 condos by KB Home), Playa Vista, CA (LEED H)
• Private residence (EcoStruction), Atherton, CA (LEED H)
• Private residence (Feldman Architecture), Carmel Valley, CA (LEED H)
• Private residence (Carver and Schicketanz), Carmel-by-the-Sea, CA (LEED H)
• Private residence (Blanchard), Costa Mesa, CA (LEED H)
• Private residence (gut rehab), Culver City, CA (LEED H)
• Private residence (ArtHaus LLC), Encinitas, CA (LEED H)
• Private residence, Westside Road (Architect: Dowling Kimm Studios), Healdsburg, CA (LEED H)
• Private residence (Steigerwald-Dougherty), La Jolla, CA (LEED H)
• Private residence (Tresor Properties), Laguna Beach, CA (LEED H)
• Private residence (gut rehab), Los Angeles, CA (LEED H)
• Private residences (Rock Row: 10 production homes; Heyday Development), Los Angeles, CA (LEED H)
• Private residence (Fort Hill Construction), Malibu, CA (LEED H)
• Private residence (B.L. Burkhalter), Manhattan Beach, CA (LEED H)
• Private residence (McDonald Construction), Mill Valley, CA (LEED H)
• Private residence (Kennedy Wilson Builders), Montecito, CA (LEED H)
• Private residence (renovation; Green Method Construction), Napa, CA (LEED H)
• Private residence (Pacific Construction), Newport Beach, CA (LEED H)
• Private residence (Eric Farmer Construction), Newport Beach, CA (LEED H)
• Private residence (gut rehab; Kerr Construction), Nicasio, CA (LEED H)
• Private residence (MGM Construction), Portola Valley, CA (LEED H)
• Private residence (CNB Construction and Management), Orinda, CA (LEED H)
• Private residence (MC and Son Builders), Oxnard, CA (LEED H)
• Private residence (Forma Design Group), Pacific Palisades, CA (LEED H)
• Private residence (Kovac Architects), Pacific Palisades, CA (LEED H)
• Private residence (Erwig & Sons Construction), Palo Alto, CA (LEED H)
• Private residence (Pete Moffat Construction), Palo Alto, CA (LEED H)
• Private residence, Palm Springs, CA (LEED H)
• Private residence (Plath & Co.), Petaluma, CA (LEED H)
• Private residence (Avalon Enterprises), Rough and Ready, CA (LEED H)
• Private residence (gut rehab; Troon Pacific), San Francisco, CA (LEED H)
• Private residence (custom home; Troon Pacific), San Francisco, CA (LEED H)
• Private residences (two custom homes; Philip Sowers AIA), San Francisco, CA (LEED H)
• Private residence (Solutions), San Francisco, CA (LEED H)
• Private residence (Kirin O'Donoghue), San Francisco, CA (LEED H)
• Private residence (Mann), San Luis Obispo, CA (LEED H)
• Private residence (Paul Franz Construction), Santa Barbara, CA (LEED H)
• Private residences (duplex; Salvatore Caruso Design Corp.), Santa Clara, CA (LEED H)
• Private residence (Levitt and Moss), Santa Monica, CA (LEED H)
• Private residence (Davis Development), Santa Monica, CA (LEED H)
• Private residence (deKrassel Construction), Santa Monica, CA (LEED H)
• Private residence (SMK Construction), Santa Monica, CA (LEED H)
• Private residence, Studio City, CA (LEED H)
• Private residence (McDonald Construction and Development), Tiburon, CA (LEED H)
• Private residence (Toby Long Design), Truckee, CA (LEED H)
• Private residence (Minimal Productions), Venice, CA (LEED H)
• Private residence (gut rehab; Scharff Construction), Venice, CA (LEED H)
• Private residence (Rafe Eddington), Venice, CA (LEED H)
• The (TransAmerica) Pyramid, San Francisco, CA (LEED EBOM v2009)
• The Ranch House at Del Sur, Black Mountain Ranch, San Diego, CA (LEED NC v2.1)
• Redding School of the Arts, Redding, CA (LEED for Schools v2009)
• Renaissance Tower, Sacramento, CA (LEED EBOM)
• Sacramento Habitat for Humanity, 5 affordable single-family homes, Sacramento, CA (LEED H)
• Sacramento Municipal Utility District (SMUD) Customer Service Center, Sacramento, CA (LEED EB v2.0)
• Sacred Heart School, Homer Science and Student Life Center, Atherton, CA (LEED for Schools v2)
• Salmon Creek Falls Environmental Education Center, Harmony Union Schools, Occidental, CA (LEED NC v2.2)
• San Diego County Operations Center and Conference Center, DGS, San Diego, CA (LEED NC v2.2)
• San Diego Gas and Electric's Energy Innovation Center, San Diego, CA (LEED NC v2009)
• San Elijo Lagoon Nature Center, San Diego County Parks and Recreation, Encinitas, CA (LEED NC v2.1)
• San Francisco Surgical Arts office, San Francisco, CA (LEED CI v2009)
• San Francisco Public Utilities Commission (SFPUC) Administration Office Building, San Francisco, CA (LEED NC v2009)
• San Francisco Toyota Showroom, San Francisco, CA (LEED NC v2009)
• San Jose City Hall, San Jose, CA (LEED EBOM)
• San Pasqual Academy housing (30 units), Escondido, CA (LEED H)
• Sephora store, Stonestown Mall, San Francisco, CA (LEED CI v2.0)
• Sequoia High School Spectator Gymnasium, Redwood City, CA (LEED NC v2.2)
• Sequoia Union High School District: 5th Avenue Alternative School, Redwood City (LEED NC v2009)
• Shangri La Entertainment's Hangar 25, Burbank, CA (LEED NC v2.2)
• Shinsei Gardens Apartments multi-family affordable housing (39 units), Alameda, CA (LEED H)
• Siena Youth Center, Redwood City, CA (LEED NC v2009)
• Silverlake Library, Los Angeles, CA (LEED NC v2.2)
• Siren Data Management V3, Santa Clara, CA (LEED CI v2009)
• SMUD's Home of the Future (2 single-family homes), Folsom, CA (LEED H)
• Soledad Business Park, San Diego, CA (LEED CS v2.0)
• SolFocus, Inc. office, San Jose, CA (LEED CI v2009)
• Southern California Edison, Wildomar, CA (LEED NC v2.2)
• St. Peter's Place affordable housing, San Francisco, CA (LEED for Homes)
• Stanford University: Graduate School of Business, Knight Management Center, Stanford (LEED NC v2.2)
• Studio of Environmental Architecture (formerly Syndesis) [PDF link], Santa Monica, CA (LEED NC v2.2)
• Sunflower Gardens affordable housing for people with mental illness (18 units), Salinas, CA (LEED H)
• Tah.Mah.Lah private residence, Portola Valley (LEED H)
• Tamarack Lodge Cabin 11, Mammoth Mountain Ski Area, Mammoth Lakes, CA (LEED H)
• Tassafaronga Village affordable housing community, Oakland, CA (LEED H)
• Tipton Foundation Meeting House, Santa Ynez, CA (LEED NC v2.1)
• TreePeople's Center for Community Forestry, Beverly Hills, CA (LEED NC v2.0)
• Twin Cities Police Station, Larkspur, CA (LEED NC v2.2)
• UBM (United Business Media) office, San Francisco, CA (LEED CI v2009)
• UC Davis Robert Mondavi Institute for Wine and Food Science (brewery, winery, and food complex), Davis, CA (LEED NC v2.2)
• UC Davis Graduate School of Management (Gallagher Hall) and Conference Center, Davis, CA (LEED NC v2.2)
• UC Davis School of Veterinary Medicine's Gladys Valley Hall, Davis, CA (LEED NC v2.1)
• UC Irvine Humanities Gateway, Irvine, CA (LEED NC v2.2)
• UC Irvine Sue & Bill Gross Stem Cell Research Center, Irvine, CA (LEED NC v2.2)
• UC Irvine Medical Education Building, Irvine, CA (LEED NC v2.2)
• UC Irvine Engineering Unit 3, Irvine, CA (LEED NC v2.2)
• UC San Diego Revelle College Housing, La Jolla, CA (LEED NC v2.2)
• UC Santa Barbara's Donald Bren School of Environmental Science and Management, Santa Barbara, CA (LEED NC Pilot and LEED EB v2.0)
• The Urban School, San Francisco (LEED EBOM v2009)
• V3 Vantage Data Center interiors, Santa Clara, CA (LEED CI v2009)
• Victoria Garden Mews condominiums (3 condo units; Allen Associates), Santa Barbara, CA (LEED H)
• Virgin America SFO Terminal 2 Office, San Francisco (LEED CI v2009)
• Vision Service Plan Headquarters, Rancho Cordova, CA (LEED EB v2.0)
• Vista Dunes affordable housing development, La Quinta, CA (LEED H)
• Water + Life Museum, Metropolitan Water District, Hemet, CA (LEED NC v2.1)
• Watson Land Company Corporate Office, Carson, CA (LEED NC v2009)
• Watsonville Water Resources Operations Center, Watsonville, CA (LEED NC v2.1)
• West Coast Asset Management, Coast Village Road, Santa Barbara, CA (LEED CI v2.0)
• Windrush School Classroom Building, El Cerrito, CA (LEED NC v2.2)
• Yanonali Court (5 homes), Santa Barbara, CA (LEED H)

Colorado
• 1800 Larimer, Denver, CO (LEED CS v2.0)
• Aardex Offices at Signature Centre, Golden, CO (LEED CI v2.0)
• Aspen Skiing Co. Holiday House employee housing (25 units), Aspen CO (LEED H)
• Carbondale Recreation Center, Carbondale, CO (LEED NC v2.2)
• Casey Middle School, Boulder, CO (LEED for Schools v2.0)
• Colorado State Veterans Center, Homelake Domiciliary (gut rehab of 48 assisted living units in cottages), Monte Vista, CO (LEED H)
• Council Tree (Southeast Branch) Library, Fort Collins, CO (LEED CI v2.0)
• Creekside West affordable housing for seniors, Lakewood, CO (LEED NC v2009)
• Enermodal Engineering, Denver, CO (LEED NC v2009)
• Engine House #5, Denver, CO (LEED NC v2009)
• Habitat for Humanity of Metro Denver, 2 attached affordable homes, Denver, CO (LEED H)
• Habitat for Humanity Flatirons, 4 attached affordable homes, Boulder, CO (LEED H)
• Kent Denver School Dining Hall, Englewood, CO (LEED for Schools v2009)
• Morgan Creek Ventures, 1820 Folsom, Boulder, CO (LEED CI v2.0)
• National Renewable Energy Laboratory (NREL) Research Support Facilities, Golden, CO (LEED NC v2.2)
• National Renewable Energy Laboratory (NREL) Science and Technology Facility, Golden, CO (LEED NC v2.0)
• Northfield Village four-plex affordable homes, Flatirons Habitat for Humanity, Boulder, CO (LEED H v3)
• Private residence on Spruce Street (renovation, Jim Logan Architects), Boulder, CO (LEED H)
• Private residence (Hughes Construction), Boulder, CO (LEED H)
• Private residence (Rodwin Architecture), Boulder, CO (LEED H)
• Private residence (Silver Lining Builders), Boulder, CO (LEED H)
• Private residence (Morningstar Homes), Boulder, CO (LEED H)
• Private residence (Magnolia Building Co.), Boulder, CO (LEED H)
• Private residences (2 custom attached homes, Ashland Construction), Denver, CO (LEED H)
• Private residence (Infinity Home Collection), Denver, CO (LEED H)
• Private residence (Stauffer & Sons), Divide, CO (LEED H)
• Private residence (Hal Whittemore), Durango, CO (LEED H)
• Private residence (Galbraith Builders), Hesperus, CO (LEED H)
• Rocky Mountain Institute Offices, Boulder, CO (LEED CI v2.0)
• Rocky Mountain Innosphere, Fort Collings, CO (LEED NC v2009)
• Seven Generations Office Park, Building A, Sustainable Strategies, Fort Collins, CO (LEED CS v2.0)
• Signature Centre, Golden, CO (LEED CS Pilot)
• Total Longterm Care Community Options office building, Denver, CO (LEED NC v2.2)
• University of Colorado Boulder, Williams Village residence hall, Boulder, CO (LEED NC v2.2)
• Walking Mountains Science Center, Gore Range Science Schools, Avon, CO (LEED NC? )

Connecticut
• 360 State Street high-rise mixed-use apartment building, New Haven, CT (LEED NC, Stage 2)
• Mary M. Hooker Environmental Sciences Magnet School, Hartford, CT (LEED for Schools v2.0)
• Private residence (Essex Squared), Killingworth, CT (LEED H)
• Private residence (BPC Green Builders), New Canaan, CT (LEED H)
• Private residence (Picton Brothers), New Milford, CT (LEED H)
• Private residence (gut rehab, BPC Green Builders), Ridgefield, CT (LEED H)
• Yale University School of Forestry and Environmental Studies (Kroon Hall), New Haven, CT (LEED NC v2.2)
• Yale University Sculpture Building, New Haven, CT (LEED NC v2.1)

Delaware
• Deleware Technical Community College's Energy House educational residential facility, Georgetown, DE (LEED H)
• Girl Scouts of Chesapeake Bay: Science and Technology Lodge, Hockessin, DE (LEED NC v2.1)

Florida
• City of Orlando affordable single-family home, Orlando, FL (LEED H)
• City of Seminole Public Works and Operations, Seminole, FL (LEED NC v2.2)
• Florida Atlantic University, College of Education Foodservice, Boca Raton, FL (LEED CI v2.0)
• Florida Atlantic University, Engineering and Computer Science Building, Boca Raton, FL (LEED NC v2.2)
• Florida Gulf Coast University AB-7, Fort Myers, FL (LEED NC v2.2)
• Honda Dealership, Winter Garden, FL (LEED NC v2.2)
• In the Pines North affordable housing community (20 rental townhomes), Boynton Beach, FL (LEED H)
• Largo Community Center, Largo, FL (LEED NC v2.2)
• Learning Gate Community School, Lutz, FL (LEED for Schools v2.0)
• Nasa Propellents North, Kennedy Space Center, FL (LEED NC v2.2)
• Private residence, Callaway, FL (LEED H)
• Private residence (Sadler/Miller), Jacksonville, FL (LEED H)
• Private residence (gut rehab, Richard Jones), Miami, FL (LEED H)
• Private residence (MyGreenBuildings), Nokomis, FL (LEED H)
• Private residence (Eric Johnson Construction), Palm City, FL (LEED H)
• Private residence (Tradition Construction), Port St. Lucie, FL (LEED H)
• Private residence, Rosemary Beach, FL (LEED H)
• Private residence (Green and Beyond/Premium S&H Homes), Sarasota, FL (LEED H)
• Private residence (MyGreenBuildings), Sarasota, FL (LEED H)
• Private residences (2 homes; Josh Wynne Construction), Sarasota, FL (LEED H)
• Private residence (JCM Management), Sarasota, FL (LEED H)
• Private residence (Forever Home), Sebring, FL (LEED H)
• Private residence (Design Works), St. Petersburg, FL (LEED H)
• Private residence (Myddleton Parker), Tallahassee, FL (LEED H)
• Private residence (SMS Corp), Tampa, FL (LEED H)
• Private residence (Kimco Construction), Venice, FL (LEED H)
• Private residence (production home, KB Home), Windermere, FL (LEED H)
• Sears Cottage, at Anna Maria Historic Green Village, Anna Maria Island, FL (LEED NC v2009)
• Tyndall Air Force Base Fitness Center, Panama City, FL (LEED NC v2.2)
• University of Florida Southwest Stadium Expansion, Gainesville, FL (LEED NC v2.2)
• The Village Cafe at Rosedale, at Anna Maria Historic Green Village, Anna Maria Island, FL (LEED NC v2009)

Georgia
• ASHRAE Headquarters renovation, Atlanta, GA (LEED NC v2.2)
• Cooper Carry Offices, Atlanta, GA (LEED CI v2.0)
• The Edge, Atlanta, GA (LEED NC v2009)
• The Epsten Group, Inc., Edgewood Office, Atlanta, GA (LEED NC v2.0)
• Georgia Power Coastal Regional Offices, Savannah, GA (LEED NC v2009)
• Glasgow/Lee residence (gut rehab, Hammertime Construction), Kirk Road, Decatur, GA (LEED H)
• Halstead International, Calhoun, GA (LEED NC v2.2)
• Haworth Atlanta Showroom, Atlanta, GA (LEED CI v2009)
• Interface Showroom and Offices, Atlanta, GA (LEED CI Pilot)
• Natural Body Salon and Spa, Atlanta, GA (LEED CI for Retail v1.0)
• Newcomer residence (Bork Architectural Design), Athens, GA (LEED H)
• Private residence (Fletcher), Atlanta, GA (LEED H)
• Private residences (2 single-family homes, New World Home), Marietta, GA (LEED H)
• Private residence, Roswell, GA (LEED H)
• RainShine house, Decatur, GA (LEED H)
• Southface Eco Office, Atlanta, GA (LEED NC v2.1)
• Sweetwater Creek Visitor Center, Georgia Department of Natural Resources, Lithia Springs, GA (LEED NC v2.0)
• Trees Atlanta Kendeda Center, Atlanta, GA (LEED NC v2.2)

Hawaii
• Ferraro Choi and Associates architecture office, Honolulu, HI (LEED CI v2009)
• Group 70 International, 2nd Floor Renovation, Honolulu, HI (LEED CI v2.0)
• Halau Ho'olako Community Center, Kanu O Ka Aina Learning, Waimea, South Kohala, HI (LEED NC v2.2)
• Hau'oli Mau Loa Foundation offices, 701 Bishopa, Honolulu, HI (LEED CI v2.0)
• Hawaii Gateway Energy Center, Natural Energy Laboratory of Hawaii, Kailua-Kona, Hawaii (LEED NC v2.1)
• Hawaii Preparatory Academy Energy Lab, Kamuela, HI (LEED for Schools v2007) (also Living Building Challenge certified)
• Hawai'i Volcanoes National Park, Visitor Emergency Operations Center, Hawaii (LEED NC v2.2)
• Panahou Omidyar K-1 Neighborhood Project, Honolulu, HI (LEED for Schools v2.0)
• Private residence (Gentry Builders), Ewa Beach, HI (LEED H)
• Private residence (Trent Johnson Builders), Haleiwa, HI (LEED H)
• Private residence (Armstrong Builders), Honolulu, HI (LEED H)
• Private residence (A'alapap Enterprises), Kailua, HI (LEED H)
• Private residence (GM Construction), Kailua-Kona, HI (LEED H)
• Private residence (Pacific Isle Homes), Kamuela, HI (LEED H)

Idaho
• Banner Bank Building, Boise, ID (LEED CS Pilot)
• Cardona Senior Apartments (48 units, Thomas Development), Chubbuck, ID (LEED H)
• The Christensen Corporation Office, Boise, ID (LEED CI v2.0)
• Habitat for Humanity affordable single-family home, Boise, ID (LEED H)
• Norfleet 4115, Caldwell, ID (LEED EBOM)
• Private residence (Quinn Builds), Boise, ID (LEED H)
• Private residence (Anvil Rock Construction), Boise, ID (LEED H)
• Private residences (4 production homes; Active West Builders), Coeur d'Alene, ID (LEED H)
• Private residence (Healthy Homes), Eagle, ID (LEED H)
• Rosslare Senior Apartments (48 units, Thomas Development), Idaho Falls, ID (LEED H)
• Summerhill affordable housing community (80 units, Thomas Development/Pac West), Idaho Falls, ID (LEED H)

Illinois
• 550 West Washington St., Chicago, IL (LEED EBOM)
• Center for Neighborhood Technology Renovation, Chicago, IL (LEED NC v2.1)
• Chicago Center for Green Technology, City of Chicago Department of the Environment, Chicago, IL (LEED NC Pilot)
• Chipotle Mexican Grill, Gurnee Mills, IL (LEED NC for Retail v1.0)
• Christy Webber Landscapes, Greenworks Office & Storage Building, Chicago, IL (LEED NC v2.1)
• Environmental Law and Policy Center office interiors, Chicago, IL (LEED CI v2009)
• Erin's Pavilion, Springfield, IL (LEED NC v2.2)
• Evelyn Pease Tyner Interpretive Center at Air Station Prairie, Glenview, IL (LEED NC v2.1)
• Exelon Headquarters (and the 55th Floor), Chicago, IL (LEED CI v2.0)
• FBI Regional Office, Chicago, IL (LEED EBOM)
• Gensler Office, Chicago, IL (LEED CI v2.0)
• Hidden Oaks Nature Center, Bolingbrook, IL (LEED NC v2.2)
• HOK Office, Chicago, IL (LEED CI v2.0)
• Hyatt Center, Chicago, IL (LEED EBOM)
• Jewish Reconstructionist Congregation Synagogue, Evanston, IL (LEED NC v2.1)
• Kenmore Senior Apartments affordable housing, Chicago, IL (LEED NC v2.2)
• McDonald's Corporation World Headquarters: Campus Office Building, Oak Brook, IL (LEED EB v2.0)
• McGuire Engineers, Chicago, IL (LEED CI v2009)
• Other World Computing, Woodstock, IL (LEED NC v2.2)
• Pepsico Chicago Sustainability Center, Chicago, IL (LEED CI v2.0)
• Perkins + Will office renovation, Chicago, IL (LEED CI v2.0)
• Private residence (Farr Associates), Chicago, IL (LEED H)
• Private residence (Square 1 Precision Lighting), Chicago, IL (LEED H)
• Private residence (Thomas McGrath), Chicago, IL (LEED H)
• Private residence (Weiss Building and Development), Elgin, IL (LEED H)
• Private residence (Scott Simpson Builders), Glencoe, IL (LEED H)
• Richland Community College Center for Sustainability and Innovation, Decatur, IL (LEED NC v2.2)
• Ryerson Woods Conservation Area Visitors Center, Lake County Forest Preserve District, Deerfield, IL (LEED NC v2.1)
• Shaw Technology and Learning Center, Chicago, IL (LEED NC v2.2)
• Testa Produce, Chicago, IL (LEED NC v2.2)
• University of Illinois at Urbana Champaign: Business Instructional Facility, Champaign, IL (LEED NC v2.1)

Indiana
• Habitat for Humanity affordable single-family home, Indianapolis, IN (LEED H)
• Merry Lea Environmental Learning Center, Reith Village, Goshen College, Wolf Lake/Albion, IN (LEED NC v2.1)
• Private residence (David Gulyas Design), Bloomington, IN (LEED H)
• Private residence (Castalia Homes), Franklin, IN (LEED H)
• Private residence (attached unit, Castalia Homes), Indianapolis, IN (LEED H)
• Private residence (Castalia Homes), Noblesville, IN (LEED H)
• Private residence (Castalia Homes), Zionsville, IN (LEED H)
• South Bend Public Transportation Corporation's Reznick Administration, Maintenance and Operations Facility, South Bend, IN (LEED NC v2.2)
• Sweetwater Sound Headquarters, Fort Wayne, IN (LEED NC v2.2)

Iowa
• ACT Operations Center, Iowa City, IA (LEED NC v2.2)
• AIA Iowa office, Des Moines, IA (LEED CI v2.0)
• Central College, Ed/Psych Building, Pella, IA (LEED NC v2.2)
• Iowa State University College of Design, Foundations Pavilion, Ames, IA (LEED NC v2.2)
• Private residence (WCC, Inc.), Fairfield, IA (LEED H)

Kansas
• 5.4.7 Arts Center, Sustainable Prototype (Studio 804), Greensburg, KS (LEED NC v2.2)
• Bucklin Tractor & Implement (BTI), Greensburg, KS (LEED NC v2.2)
• Greensburg Incubator, City of Greensburg, KS (LEED NC v2.2)
• Greensburg School, Greensburg, KS (LEED for Schools v2.0)
• Kiowa County Memorial Hospital, Greensburg, KS (LEED NC v2.2)
• Prairie Pointe Townhomes (8 affordable apartment units), Greensburg, KS (LEED H)
• Prescott Passive House (Studio 804), Kansas City, KS (LEED H)
• Private residence on Springfield (Studio 804), Kansas City, KS (LEED H)

Kentucky
• Bernheim Visitors Center, Bernheim Arboretum and Research Forest, Clermont, KY (LEED NC v2.0)
• The Green Building, Louisville, KY (LEED NC v2.2)
• Habitat for Humanity affordable single-family home, Louisville, KY (LEED H)

Louisiana
• Holy Cross Project affordable home (Global Green USA), New Orleans, LA (LEED H)
• Lamb Weston sweet potato processing facility, Delhi, LA (LEED NC v?)
• Make It Right affordable homes (approx. 75 homes so far; Contects), New Orleans, LA (LEED H)
• Single-family affordable homes (6 homes, Indiana Building Systems), New Orleans, LA (LEED H)
• Single-family affordable homes including the Special No. 9 House (5 homes, C&G Construction / KieranTimberlake), New Orleans, LA (LEED H)
• Single-family affordable homes (3 homes, TKO Maintenance and Construction), New Orleans, LA (LEED H)
• Single-family affordable homes (2 homes, Quality Design & Construction), New Orleans, LA (LEED H)
• Single-family affordable homes (2 homes, Bruce Heys Builder), New Orleans, LA (LEED H)
• Single-family affordable homes (2 homes, Slayton Construction), New Orleans, LA (LEED H)
• Single-family affordable home (EPCO Construction), New Orleans, LA (LEED H)
• Single-family affordable home (P&J Contracting), New Orleans, LA (LEED H)
• Single-family affordable home (Presidente Builders), New Orleans, LA (LEED H)
• Private residences (3 attached/triplex, EcoBuilders), New Orleans, LA (LEED H)
• Private residence (Young), Lafayette, LA (LEED H)
• Private residence (production home, Stalwart Built Homes), New Orleans, LA (LEED H)
• Private residence (Extreme Makeover: Home Edition), Westwego, LA (LEED H)

Maine
• Coastal Maine Botanical Gardens Education Center, Boothbay, ME (LEED NC v2009)
• Crescent Heights apartment suites (11 units), Portland, ME (LEED H)
• Hannaford grocery store, Augusta, ME (LEED NC Retail Pilot)
• Private residence (GO Logic), Belfast, ME (LEED H)
• Private residence (Kolbert Building), Falmouth, ME (LEED H)
• Private residence, Freeport, ME (LEED H)
• Private residence (major renovation), Portland, ME (LEED H)
• Private residence (Redfern Properties), Portland, ME (LEED H)
• Private residence (Gibson Design/Bensonwood Homes), Rockport, ME (LEED H)
• Private residence (Bensonwood Homes), Unity, ME (LEED H)
• TD Bank Auburn Call Center interiors, Auburn, ME (LEED CI v2009)

Maryland
• 217 International Circle, Cockeysville, MD (LEED NC v2.2)
• 230 Schilling Circle, Hunt Valley, MD (LEED CS v2.0)
• 2000 Tower Oaks Boulevard, Rockville, MD (LEED CS v2.0)
• Baltimore Medical Systems, Baltimore, MD (LEED CI v2.0)
• Blair Towns apartments, Silver Spring, MD (LEED EBOM v2009)
• CBF Phillip Merrill Environmental Center, Chesapeake Bay Foundation, Annapolis, MD (LEED NC Pilot)
• Discovery Communications Global Headquarters, Silver Spring, MD (LEED EB v2.0)
• Gaithersburg Olde Towne Youth Center, Gaithersburg, MD (LEED NC v2.2)
• Highland Beach Town Hall, Highland Beach, MD (LEED NC v2.1)
• Lucy School, Middletown, MD (LEED for Schools v2.0)
• One Washingtonian Center, Gaithersburg, MD (LEED EBOM v2009 recertification)
• Private residence (Bethesda Bungalows), Chevy Chase, MD (LEED H)
• Private residence (Columbia Builders), Columbia, MD (LEED NC v2.1)
• Private residence (Pentech Group), Upperco, MD (LEED H)
• Sandtown Habitat for Humanity affordable home, Baltimore, MD (LEED H)
• The Tower Companies Headquarters Office, Rockville, MD (LEED CI v2.0)

Massachusetts
• 81 Brent (3-unit home; Westchester Modular Homes of Greater Boston), Dorchester, MA (LEED H)
• 95-97 Pine Street affordable housing (12 units; CCHDI), Cambridge, MA (LEED H)
• 823 Main Street Condominiums (10 units of affordable housing, Just-A-Start/MCR Construction), Cambridge, MA (LEED H)
• ADD 311 office, Boston, MA (LEED CI v2.0)
• Adobe Systems, Inc. office, Waltham, MA (LEED CI v2009)
• Affordable housing development (12 units), Provincetown, MA (LEED H)
• Artists for Humanity EpiCenter, Boston, MA (LEED NC v2.1)
• Autodesk, Inc. office, Waltham, MA (LEED CI v2.0)
• Boston College's Blessed Peter Faber Jesuit Community residential housing (72 units, low-rise), Brighton, MA (LEED H)
• Cabot Street Homes (32 new SRO units of affordable housing), Beverly, MA (LEED H)
• Castle Square Apartments renovation and deep-energy-retrofit (multi-family affordable housing), Boston, MA (LEED H)
• Chapman Construction/Design office renovation, Newton, MA (LEED CI v2.0)
• CoStar Group office, Boston, MA (LEED CI v2009)
• Eliakim's Way residences (8 single-family affordable homes, South Mountain Co.), West Tisbury (Martha's Vineyard), MA (LEED H)
• Genzyme Center, Genzyme Corporation, Cambridge, MA (LEED NC v2.0)
• Habitat for Humanity Lowell single-family affordable home, Westford, MA (LEED H)
• Harvard University's Blackstone Station Office Renovation, Cambridge, MA (LEED NC v2.1)
• Harvard Business School's McCulloch Hall interiors [PDF], Boston, MA (LEED CI v2.0)
• Harvard Graduate School of Education's Larsen Classroom interior renovation [PDF], Cambridge, MA (LEED CI v2.0)
• Harvard Law School's Griswold Hall [PDF], Cambridge, MA (LEED CI v2.0)
• Harvard School of Engineering and Applied Sciences' Vlassak Laboratory [PDF], Cambridge, MA (LEED CI v2009)
• Harvard School of Engineering and Applied Sciences' B1 Annex Northwest Labs [PDF], Cambridge, MA (LEED CI v2009)
• Harvard University house, 2 Grant St., Cambridge, MA (LEED H)
• Leggat McCall Properties, Boston, MA (LEED CI v2.0)
• Manulife, 601 Congress, Boston, MA (LEED EBOM v2009)
• Massachusetts Audubon Society, South Wellfleet, MA (LEED NC v2.1)
• National Grid main office (40 Sylvan Rd.), Waltham, MA (LEED CS v2.0 + LEED CI v2.0)
• New England Environmental Inc., Amherst, MA (LEED NC v2.2)
• Ocean Shores Apartments 55+ affordable housing (97 units; low-rise), Marshfield, MA (LEED H)
• Private residence (Estes), Ashfield, MA (LEED H)
• Private residences (3 homes, PowerHouse Enterprises), Cambridge, MA (LEED H)
• Private residence (Synergy Companies Construction), Concord, MA (LEED H)
• Private residence (Premier Construction), Dartmouth, MA (LEED H)
• Private residences (4 affordable homes, South Mountain Co.), Edgartown, MA (LEED H)
• Private residences (duplex, Saslaw Associates), Jamaica Plain, MA (LEED H)
• Private residence (Rogers), North Truro, MA (LEED H)
• Private affordable single-family residences (2 units, McShane Construction), Truro, MA (LEED H)
• Private residence (Corsa), Turner Falls, MA (LEED H)
• Private residences (4 affordable homes), Wellesley, MA (LEED H)
• TD Bank, Winter St., Boston, MA (LEED CI v2009)
• Wisdom Way Solar Village homes (6 affordable attached units, Rural Development Inc.), Greenfield, MA (LEED H)

Michigan
• 502 Second St. NW renovation (Catalyst Partners), Grand Rapids, MI (LEED NC v2.2)
• Bridge Street Place (renovation of 16 affordable apartments for domestic violence survivors), Grand Rapids, MI (LEED H)
• Cascade Engineering's Learning Community, Grand Rapids, MI (LEED EB v2.0)
• The Christman Building Headquarters, Lansing, MI (LEED CS v2.0, CI v2.0, and EBOM)
• The Christman Company Grand Rapids Office, Grand Rapids, MI (LEED CI v2.0)
• Habitat for Humanity of Macomb County affordable single-family home, Sterling Heights, MI (LEED H)
• Habitat for Humanity of Oakland County affordable single-family Home, Pontiac, MI (LEED H)
• Habitat for Humanity of Kent County affordable single-family Home, Wyoming, MI (LEED H)
• Heron Manor Assisted Living (55 units of affordable housing, Triangle Associates), Grand Rapids, MI (LEED H)
• Hybrid Home, Onekama, MI (LEED H)
• Hybrid Home, Paw Paw, MI (LEED H)
• Kresge Foundation Headquarters, Troy, MI (LEED NC v2.1)
• Private residences (3 single-family custom homes; Meadowlark Builders), Ann Arbor, MI (LEED H)
• Private residence (Artisans Group), Bloomfield Hills, MI (LEED H)
• Private residence (gut rehab, by Architectural Resources), Ann Arbor, MI (LEED H)
• Private residences (2 single-family custom homes; Fireside Homes), Dexter, MI (LEED H)
• Private residence (Bosgraaf), Glenn, MI (LEED H)
• Private residence (Lamar Construction), Holland, MI (LEED H)
• Private residence (Burkholder Construction), Leeland, MI (LEED H)
• Private residence (Meadowlark Builders), Northville, MI (LEED H)
• Private residence (Vos Energy Concepts), Saranac, MI (LEED H)
• Private residences (3 single-family homes; Cottage Home), South Haven, MI (LEED H)
• Private residence (Cottage Home), Zeeland, MI (LEED H)
• Steelcase WorkLab, Grand Rapids, MI (LEED CI v2.0)
• Van Andel Institute, Phase 2, Grand Rapids, MI (LEED NC v2.2)
• Watercress Project log home, Pentwater, MI (LEED H)

Minnesota
• Alliance Addition affordable housing for formerly homeless adults (51 units; mid-rise), Minneapolis, MN (LEED H)
• Blattner Energy Corporate Headquarters, Avon, MN (LEED NC v2.2)
• Great River Energy, Maple Grove, MN (LEED NC v2.2)
• City of Minneapolis Hiawatha Public Works Facility, Minneapolis, MN (LEED NC v2.2)
• Hawthorne EcoVillage affordable single-family home, Minneapolis, MN (LEED H)
• Macalester College, Markim Hall Building / Institute for Global Citizenship, St. Paul, MN (LEED NC v2.2)
• Marquette Plaza, Minneapolis, MN (LEED EBOM)
• Private residence (Rod and Sons Carpentry), Isabella, MN (LEED H)
• Private residence (Shelter Architecture), Minneapolis, MN (LEED H)
• Private residence (Reuter/Walton Construction), Minneapolis, MN (LEED H)
• Private residence, major renovation, Minnetonka, MN (LEED H)
• Private residence (Green Lyfe/Genesis Architecture), Willmar, MN (LEED H)
• SkyRidge Business Center and Nature Preserve, Minnetonka, MN (LEED EBOM)
• St. Olaf College, Science Complex, Northfield, MN (LEED NC v2.1)
• University of Minnesota Duluth, Bagley Classroom, Duluth, MN (LEED NC v2.2)

Mississippi
• Habitat for Humanity Bay Waveland single-family affordable home, Bay St. Louis, MS (LEED H)
• Private residence (Cottages at Oak Park), Ocean Springs, MS (LEED H)

Missouri
• Alberici Corporation Headquarters, St. Louis, MO (LEED NC v2.1)
• Crossroads College Preparatory School: Science Building/Library, St. Louis, MO (LEED NC v2.2)
• Drury College affordable single-family residence, Springfield, MO (LEED H)
• Green Circle, Springfield, MO (LEED CS v2.0)
• Habitat for Humanity St. Louis single-family affordable homes (51 homes), St. Louis, MO (LEED H)
• Lewis and Clark State Office Building, Missouri Department of Natural Resources, Jefferson City, MO (LEED NC v2.0)
• Novus, St. Charles, MO (LEED NC v2.2)
• Private residence, Imperial, MO (LEED H)
• Private residence, Kirkwood, MO (LEED H)
• Private residence (Eco Urban Homes), St. Louis, MO (LEED H)
• Private residence (Blue Brick Construction), St. Louis, MO (LEED H)
• Private residence (gut rehab; Boevingloh Custom Homes), Montgomery City, MO (LEED H)
• Staples interiors, Overland, MO (LEED CI v2009)
• William A. Kerr Foundation Office, St. Louis, MO (LEED NC v2.1)

Montana
• Blackfeet Community College Math/Science Building, Browning, MT (LEED NC v2.2)
• Home On The Range, Northern Plains Resource Council, Billings, MT (LEED NC v2.1)
• Klos Building, Billings, MT (LEED NC v2.2)
• MET Downtown Transit Center, Billings, MT (LEED NC v2.2)
• Missoula Federal Credit Union, Missoula, MT (LEED NC v2.2)
• Multifamily low-rise housing (9 units, gut rehab, Fisher Construction), Billings, MT (LEED H)
• Native American Center (State of Montana), Missoula, MT (LEED NC v2.2)
• Private residence (Herald), Bigfork, MT (LEED H)
• Private residence (Collin Leach), Bigfork, MT (LEED H)
• Private residence (Highline Partners), Big Sky, MT (LEED H)
• Private residence (Lyric Architecture), Bozeman, MT (LEED H)
• Private residence (Mosaic Architecture), Helena, MT (LEED H)

Nebraska
• 4940 Building, Omaha, NE (LEED NC v2.2)
• M.E. Group Office Building, Omaha, NE (LEED NC v2009)
• Omaha Service Center (Omaha Public Power District/University of Nebraska Medical Center, Omaha, NE (LEED NC v2.2)

Nevada
• Habitat for Humanity Las Vegas affordable single-family homes (2), Henderson, NV (LEED H)
• Las Vegas Springs Preserve's Desert Living Center and Gardens, Las Vegas Valley Water District, Las Vegas, NV (LEED NC v2.0)
• Las Vegas Springs Preserve's Visitor Center, Las Vegas, NV (LEED NC v2.1)
• Private residence (Signature Custom Homes), Las Vegas, NV (LEED H)
• Sierra Nevada College / UC Davis' Tahoe Center for Environmental Sciences, Incline Village, NV (LEED NC v2.1)
• Villa Trieste residential community (Pulte Homes development, dozens of the homes have achieved certification), Las Vegas, NV (LEED H)
• Whit Hall Interpretive Center (The Nature Conservancy), Genoa, NV (LEED NC v2.2)

New Hampshire
• Affordable housing development (4 units), Manchester, NH (LEED H)
• Private residence (Bruss Construction), Dorchester, NH (LEED H)
• Private residence (gut rehab), Holderness, NH (LEED H)
• Private residence (Flanders Enterprises), Meredith, NH (LEED H)
• Private residence, Peterborough, NH (LEED H)
• Private residence, Plymouth, NH (LEED H)
• Private residence (Little Green Homes), Portsmouth, NH (LEED H)
• Private residence, Sandown, NH (LEED H)
• Second Nature Academy Elementary School, Nashua, NH (LEED NC v2.2)
• Sullivan Construction Headquarters office, Bedford, NH (LEED CI v2.0)

New Jersey
• Berry Street Commons (94 units of affordable housing, RPM Development), Franklin Township, Somerset, NJ (LEED H)
• Franklin Boulevard Commons (66 units of affordable housing, RPM Development), Franklin Township, Somerset, NJ (LEED H)
• Genzyme Corporation 4th Floor Fitout, Ridgefield, NJ (LEED CI v2009)
• Grand Central low-income affordable housing (70 units, low-rise), Orange, NJ (LEED H)
• Market Fair Senior Housing (35 units, mid-rise), Camden, NJ (LEED H)
• New Jersey Meadowlands Commission's Center for Environmental and Scientific Education, Lyndhurst, NJ (LEED NC v2.2)
• Private residence (Green Building Collaborative), Haddon Township, NJ (LEED H)
• Private residence (Godsil Construction), Hillsdale, NJ (LEED H)
• Private residence (TJ Fleuhr), Loveladies, NJ (LEED H)
• Private residence, Paterson, NJ (LEED H)
• Parkside Senior affordable housing (70 units, low-rise), Somerset, Franklin Township, New Jersey (LEED H)
• River Resource Center, Musconetcong Watershed Association, Asbury, NJ (LEED NC v2.1)
• Roseville Commons affordable housing (50 units; mid-rise), Newark, NJ (LEED H)
• Sayreville Center for Lifelong Learning (Middlesex Regional Educational Services), Piscataway, NJ (LEED for Schools v2.0)
• The Willow School Art Barn, Gladstone, NJ (LEED NC v2.1)

New Mexico
• Cognitive Behavioral Institute of Albuquerque, NM (LEED NC v2.2)
• Environmental Dynamics, Inc., Studio:e, Albuquerque, NM (LEED EBOM v2009)
• La Pradera affordable housing community (60 units, low-rise), Hobbs, NM (LEED H)
• New Life Homes IV affordable housing, Albuquerque, NM (LEED H)
• Private residence (3 production homes, Artistic Homes), Albuquerque, NM (LEED H)
• Private residence (Altair Homes), Cedar Crest, NM (LEED H)
• Private residence (production home, Artistic Homes), Farmington, NM (LEED H)
• Private residence (production home, Artistic Homes), Hobbs, NM (LEED H)
• Private residence (Sun and Earth), Las Cruces, NM (LEED H)
• Private residences (3 production homes, Artistic Homes), Los Lunas, NM (LEED H)
• Private residences (2 production homes, Artistic Homes), Rio Rancho, NM (LEED H)
• Private residence (Kreger Design Build), Santa Fe, NM (LEED H)
• Private residence: Rothstein/Meckler custom home (Praxis Design/Build), Santa Fe, NM (LEED H)
• Private residences (2 homes, El Gallo Limited), Santa Fe, NM (LEED H)
• Private residences (4 production homes, Artistic Homes), Santa Fe, NM (LEED H)
• Silver Gardens affordable housing development (66 units-Phase I, 55 units-Phase II, Gerald Martin Construction), Albuquerque, NM (LEED H)
• Southern Sandoval County Arroyo Flood Control Authority (SSCAFCA) Building 2, Rio Rancho, NM (LEED NC v2.2)
• University of New Mexico College of Education addition, Albuquerque, NM (LEED NC v2.2)
• Villa Alegre Apartments (111 units of affordable public housing), Santa Fe, NM (LEED H)

New York
• One Bryant Park (Bank of America Tower), New York, NY (LEED CS v1.0)
• The Barton Group Headquarters, Glens Falls, NY (LEED NC v2.2)
• Battery Park City Maintenance Facility, New York, NY (LEED CI v2.0)
• The Birches at Chambers affordable housing development for seniors (62 units, low-rise, Birchez Associates), Kingston, NY (LEED H)
• City of Schenectady single-family affordable home, Schenectady, NY (LEED H)
• CodeGreen Solutions office, New York, NY (LEED CI v2009)
• Cook + Fox Architects Office, New York, NY (LEED CI v2.0)
• Cooper Union New Academic Building, New York, NY (LEED NC v2.2)
• Democracy Now! Studio, New York, NY (LEED CI v2.0)
• The Durst Organization offices, New York, NY (LEED CI v2.0)
• E & E (Ecology & Environment, Inc.) Corporate Headquarters, Lancaster, NY (LEED EB v2.0)
• The Eltona, Melrose Commons affordable housing development (63 units, Blue Sea Development), South Bronx, NY (LEED H)
• Franciscan Sisters of St. Joseph Motherhouse senior housing (74 units), Hamburg, NY (LEED H)
• General Colin L. Powell Apartments (50 units of affordable housing, Blue Sea Development), South Bronx, NY (LEED H)
• Green Depot, 222 Bowery, New York, NY (LEED CI v2.0)
• Habitat for Humanity of Suffolk/AmeriCorps VISTA affordable single-family home, East Patchogue, NY (LEED H)
• Hearst Tower, New York, NY (LEED EBOM v?)
• Hotel Skyler, Syracuse, NY (LEED NC v2.2)
• Hudson Valley Community College: TEC-SMART, Malta, NY (LEED NC v2.2)
• Ithaca College School of Business: Dorothy D. and Roy H. Park Center for Business and Sustainable Enterprise, Ithaca, NY (LEED NC v2.1)
• Ithaca College: Peggy Ryan Williams Center, Ithaca, NY (LEED NC v2.2)
• Ithaca Neighborhood Housing, 2 duplexes, Ithaca, NY (LEED H)
• JP Morgan Chase headquarters (renovation of 50-story tower), New York, NY (LEED NC v2.2)
• King & King Architects office renovation, Syracuse, NY (LEED NC v2.2)
• Liberty Island Retail Pavilion, New York, NY (LEED NC v2.2)
• Mercy Corps Action Center to End World Hunger, New York, NY (LEED CI v2.0)
• The Melody affordable cooperative housing complex (63 units), Bronx, NY (LEED H)
• Monroe County Crime Lab, Rochester, NY (LEED NC v2.2)
• National Audubon Society Offices, New York, NY (LEED CI v2.0)
• Natural Resources Defense Council, 8th Floor office, New York, NY (LEED CI v2.0)
• New York School of Interior Design, New York, NY (LEED CI v2009)
• New York State Office of Parks, Recreation, and Historic Preservation, Taconic Regional Planning Office, Staatsburg, NY (LEED NC v2.2)
• Omega Center for Sustainable Living, Rhinebeck, NY (LEED NC v2.2; also Living Building Challenge certified)
• Queens Botanical Garden Visitors Center and New Administration Building, Flushing, NY (LEED NC v2.0)
• Private residence (Paul Coons), Clifton Park, NY (LEED H)
• Private residence (Clontarf Properties), East Hampton, NY (LEED H)
• Private residence (New World Home), Easthampton, NY (LEED H)
• Private residence (Mastercraft Siding & Contracting), Greenport, NY (LEED H)
• Private residences (duplex gut rehab, Christina Griffin Architects), Hastings-on-Hudson, NY (LEED H)
• Private residence (Phinney Design Group), Saratoga Springs, NY (LEED H)
• Private affordable single-family homes (9 homes; Better Neighborhoods, Inc.), Schenectady, NY (LEED H)
• Private residence (Northeast Natural Homes), Skaneateles, NY (LEED H)
• Private residence (Telemark), Southampton, NY (LEED H)
• Private residences (2 affordable single-family homes; Home Headquarters), Syracuse, NY (LEED H)
• Private residence (New World Home), Youngsville, NY (LEED H)
• Rochester Institute of Technology Administrative Services Building, Rochester, NY (LEED NC v2.2)
• Rockefeller Brothers Fund, New York, NY (LEED CI v2009)
• Skanska Office, New York, NY (LEED CI v2.0)
• The Silhouette, Brooklyn, NY (LEED NC v2.2)
• The Solaire (condominiums tower), New York, NY (LEED EB v2.0)
• Solidarity House housing cooperative, Common Fire Foundation, Tivoli, NY (LEED NC v2.1)
• Staten Island Workforce1 Career Center interiors, Staten Island, NY (LEED CI v2009)
• Stony Brook University, Advanced Energy Research and Technology Center, Stony Brook, NY (LEED NC v2.2)
• Syracuse University Center of Excellence, Syracuse, NY (LEED NC v2.2)
• TD Bank, Jamaica Ave., Queens Village, Queens, NY (LEED NC v2009)
• Third + Bond townhome condominiums (44 condos), Brooklyn, NY (LEED H)
• Tiffany & Co. interiors, 200 Fifth Ave., New York, NY (LEED CI v2009)
• The Vanguard Chelsea, New York, NY (LEED EB v2.0)
• The Verdesian, Battery Park City, New York, NY (LEED NC v2.2)
• The Visionaire, New York, NY (LEED NC v2.1)
• West LB, 7 World Trade Center, New York, NY (LEED CI v2.0)
• William F. Ryan Community Health Center interiors, New York, NY (LEED CI v2.0)

North Carolina
• 526 South Elm St., Greensboro, NC (LEED CS v2.0)
• Bank of America, Betsill Corporate Workplace, Floors 2-6, Charlotte, NC (LEED CI v2.0)
• Cherokee Investment Partners Head Office, Raleigh, NC (LEED CI v2.0)
• Duke Energy Center interiors, Phase I, Charlotte, NC (LEED CI v2009)
• Duke University's Home Depot Smart Home, Durham, NC (LEED NC v2.1)
• Elon University's Loy Center houses (6 houses), Elon, NC (LEED H)
• Optima Engineering Office, Charlotte, NC (LEED CI v2.0)
• Private residence (JAG Construction), Asheville, NC (LEED H)
• Private residence (Jade Mountain Builders), Asheville, NC (LEED H)
• Private residence (SUM Greenleaf), Black Mountain, NC (LEED H)
• Private residence (Headwaters Enterprises), Boone, NC (LEED H)
• Private residence (Cherokee), Raleigh, NC (LEED H)
• Private residence (The Mobius Company), Statesville, NC (LEED H)
• Private residence (Mark Johnson Custom Homes), Wilmington, NC (LEED H)
• Private residence (ILM DesignBuild), Wilmington, NC (LEED H)
• Proximity Hotel, Greensboro, NC (LEED NC v2.2)
• SAS Institute Building C and Executive Center, Cary, NC (LEED NC v2.2)
• Trinity Design/Build, 209 North Gregson, Durham, NC (LEED NC v2.2)
• Wachovia Corporate Center, Charlotte, NC (LEED CS v2.0)
• Warren Wilson College EcoDorm, Swannanoa, NC (LEED EB v2.0)
• WB Moore Office Building, Charlotte, NC (LEED NC v2.2)
• Wake Forest Town Hall, Wake Forest, NC (LEED NC v2.2)

Ohio
• Cincinnati Zoo's Historic Vine Street Entry Village, Cincinnati, OH (LEED NC v2.2)
• Commons at Buckingham (100 units of affordable, supportive housing for low-income and formerly homeless individuals), Columbus, OH (LEED H)
• Emersion Design LLC Office, Cincinnati, OH (LEED CI v2.0)
• Fernald Preserve Visitors Center, Harrison, OH (LEED NC v2.2)
• Green Cottage affordable single-family home (Civic Builders), Cleveland, OH (LEED H)
• Health Care REIT Corporate Headquarters, Toledo, OH (LEED NC v2.2)
• Heapy Engineering Headquarters, Dayton, OH (LEED EBOM v2009)
• Hocking College Energy Institute, Logan, OH (LEED NC v2.2)
• Lohre and Associates offices, Cincinnati, OH (LEED CI v2009)
• Melink Headquarters, Milford, OH (LEED EBOM)
• Metro Parks Ranger/Natural Resource Management Building, Akron, OH (LEED NC v2.2)
• Metro Parks Nature Realm Visitor Center, Akron, OH (LEED NC v2.2)
• Private residence (Camery Hensley Construction), Cincinnati, OH (LEED H)
• Private residence (affordable single-family home, Home B.A.S.E. Foundation), Columbus, OH (LEED H)
• Shearer's Foods, Massillon, OH (LEED NC v2.2)

Oklahoma
• Private residence, Tulsa, OK (LEED H)

Oregon
• 200 Market Street (Green Building Services), Portland, OR (LEED EBOM v2009)
• 937 Condominiums, Portland, OR (LEED NC v2.2)
• 3810 SE Division apartments (low-rise; Urban Development Partners), Portland, OR (LEED H)
• AIA Portland Center for Architecture, Portland, OR (LEED NC v2.2)
• Arlie & Co. offices, Eugene, OR (LEED CI v2.0)
• BOORA Architects office remodel, Portland, OR (LEED CI v2.0)
• Burnside Rocket, Portland, OR (LEED NC v2.1)
• The Casey Condominiums, Portland, OR (LEED NC v2.1)
• da Vinci Arts Middle School, Evans-Harvard High-Performance Classroom, Portland, OR (LEED NC v2.2)
• East Portland Community Center, Portland, OR (LEED NC v2.1)
• Elite Care at Fanno Creek, a low-rise elder housing development (32 units), Tigard, OR (LEED H)
• Eugene Toyota, Eugene, OR (LEED NC v2.2)
• First and Main, Portland, OR (LEED CS v2.0)
• Green Building Services, Inc. office, Portland, OR (LEED CI v2009)
• Habitat for Humanity single-family affordable homes (2 homes, Walsh Construction), Portland, OR (LEED H)
• Harrison Building, Portland, OR (LEED CS v2.0)
• Hoyt Yards neighborhood redevelopment (multiple buildings), Portland, OR (LEED ND, Stage 2)
• Juneberry Lane, 12 affordable homes (Clackamas County Land Trust), Oregon City, OR (LEED H)
• Mercy Corps Headquarters, Portland, OR (LEED NC v2.2)
• Mint Dental Works, McMillan Family Dental, Portland OR (LEED CI v2.0)
• Mirabella at South Waterfront, Portland, OR (LEED NC v2.2)
• Nike Child Development Center, Beaverton, OR (LEED NC v2.2)
• Northwest Energy Efficiency Alliance office, Portland, OR (LEED CI v2009)
• NuMiss Building, Portland, OR (LEED CS v2.0)
• OHSU (Oregon Health and Science University) Center for Health and Healing, Medical Office Building - Phase I, Portland, OR (LEED NC v2.1)
• Oregon State University Energy Center, Corvallis, OR (LEED NC v2.2)
• Port of Portland Headquarters, Portland International Airport, Portland, OR (LEED NC v2.2)
• Portland Center Stage, Armory Renovation, Portland, OR (LEED NC v2.1)
• Portland Community College Willow Creek, Hillsboro, OR (LEED NC v2.2)
• Portland State University Lincoln Hall, Portland, OR (LEED NC v2.2)
• Pringle Creek Community Center, Salem, OR (LEED NC v2.2)
• Private residence (Dorris Construction), Ashland, OR (LEED H)
• Private residences (3 single-family homes, Solaire Homebuilders), Bend, OR (LEED H)
• Private residence (Holly Contracting), Bend, OR (LEED H)
• Private residence (Metro Area Construction Services), Eagle Creek, OR (LEED H)
• Private residence (Arbor South Construction), Eugene, OR (LEED H)
• Private residence (Gomes Construction), Government Camp, OR (LEED H)
• Private residence (Cellar Ridge Custom Homes), Happy Valley, OR (LEED H)
• Private residence (Root Design Build), Portland, OR (LEED H)
• Private residence (Rivoli), Portland, OR (LEED H)
• Private residence (Constructive Form), Portland, OR (LEED H)
• Private residences (2 attached homes, Building Arts Workshop), Portland, OR (LEED H)
• Private residences (3 custom homes, Green Hammer Construction), Portland, OR (LEED H)
• Private residence (gut rehab, Green Hammer Construction), Portland, OR (LEED H)
• Private residences (5 single-family custom homes, R&R Energy Resources), Portland, OR (LEED H)
• Private residence (Kaya Construction), Portland, OR (LEED H)
• Private residence (Citilites Builders), Portland, OR (LEED H)
• Private residences (2 cottages in the Pringle Creek Community, built by Bilyeu Homes), Salem, OR (LEED H)
• Private residences (2 homes; Spectra Construction), Salem, OR (LEED H)
• Private residences (3 production homes), Lincoln City, OR (LEED H)
• Private residence (Green Hammer Construction), West Linn, OR (LEED H)
• The Reserve tenant improvements, Portland, OR (LEED CI v2.0)
• Resource Access Center (Bud Clark Commons) supportive housing and homeless shelter, Portland, OR (LEED NC v2.2)
• Rogue Community College/Southern Oregon University: Higher Education Center, Medford, OR (LEED NC v2.2)
• SERA Architects Office, 2nd Floor, Portland, OR (LEED CI v2.0)
• Twelve West Mixed-Use Tower, 12th at Washington, Portland, OR (LEED NC v2.1)
• United Fund Advisors office, Portland, OR (LEED CI v2.0)
• University of Portland: Donald P. Shiley Hall, Portland, OR (LEED NC v2.2)
• University of Oregon Law Portland Programs, Portland, OR (LEED CI v2.0)
• WGS, Portland, OR (LEED CI v2009)
• WaterPlace, Salem, OR (LEED CS v2.0)
• Western Oregon University, Live-Learn Hall, Monmouth, OR (LEED NC v2.2)
• YMCA Camp Collins Rotary Classroom Cabins, Gresham, OR (LEED NC v2.1)
• ZGF Architects office, Portland, OR (LEED CI v2.0)

Pennsylvania
• 1 Crescent Drive, Liberty Property Trust, Philadelphia, PA (LEED CS Pilot)
• Armstrong World Industries Corporate Headquarters, Lancaster, PA (LEED EB v2.0)
• Berks County Community Foundation Headquarters and Community Conference Center, Reading, PA (LEED NC v2.2)
• Friends Center, Philadelphia, PA (LEED NC v2.1)
• Green Building Alliance Offices, Pittsburgh, PA (LEED CI v2.0)
• The Icehouse condominium complex (low-rise), Philadelphia, PA (LEED H)
• Kensington CAPA High School, Philadelphia, PA (LEED for Schools v2.0)
• Morris Arboretum, Horticulture Center (University of Pennsylvania), Philadelphia, PA (LEED NC v2.2)
• Overbrook School for the Blind, Aquatic Facility, Philadelphia, PA (LEED NC v2.2)
• Nabisco Building, Bakery Square, Pittsburgh, PA (LEED CS v2.0)
• Phipps Center for Sustainable Landscapes, Pittsburgh, PA (LEED NC v2.2)
• Postgreen Homes / 100K House (3 attached homes, Hybrid Construction), Philadelphia, PA (LEED H)
• Private residence (Creswell & Company), Limerick, PA (LEED H)
• Private residences (2 attached units, Manor Hill Construction), Philadelphia, PA (LEED H)
• Private residence (gut rehab of row home, Walnut Tree Construction), Philadelphia, PA (LEED H)
• Private residence (Hannigan General Contracting), Philadelphia, PA (LEED H)
• Private residence (Lehmann Companies), Philadelphia, PA (LEED H)
• Private residence (remodel, John Hubert Architects), Wyncote, PA (LEED H)
• SKF USA Headquarters, Norristown, PA (LEED CI v2.0)
• Springfield Green Twin Homes (2 duplexes, 4 homes), Chestnut Hill, PA (LEED H)
• Temple II affordable housing (40 units, historic renovation), North Gratz Street, Philadelphia, PA (LEED H)
• Thin Flats row homes and Number 9 single-family detached home, Philadelphia, PA (LEED H)
• Vertical Screen, Inc., Warminster, PA (LEED NC v2.2)

Rhode Island
• Private residence (South County Post and Beam), Narragansett, RI (LEED H)
• Private residence (Caldwell & Johnson), North Kingstown, RI (LEED H)

South Carolina
• Half-Moon Outfitters Distribution Center, North Charleston, SC (LEED NC v2.2)
• Private residence (Paradise Upstate), Central, SC (LEED H)
• Private residence (AmeriPanel Homes of SC), Chapin, SC (LEED H)
• Private residence (Meadors Construction), Charleston, SC (LEED H)
• Private residence (Bay 10 Ventures), Hilton Head, SC (LEED H)
• Private residence (Maritime Green Builders), Myrtle Beach, SC (LEED H)
• Private residence (BRZ), Spring Island, SC (LEED H)
• Upstate Forever adaptive reuse, Greenville, SC (LEED NC v2.2)
• U.S. State Department's Charleston Regional Center, Charleston, SC (LEED NC v2.2)
• Wofford College, Glendale Shoals Environmental Studies Center, Glendale, SC (LEED NC v2.2)

South Dakota
• Heartland Consumers Power District, Madison, SD (LEED NC v2.2)
• Museum of Visual Materials, Sioux Falls, SD (LEED NC v2.1)

Tennessee
• The Bridge Building renovation, Nashville, TN (LEED CS v2009)
• Chattanooga Metropolitan Airport Authority, FBO Terminal Building, Chattanooga, TN (LEED NC v2009)
• Greenspaces office, Chattanooga, TN (LEED CI v2.0)
• GSA Census LCO 2843, Cookeville, TN (LEED CI v2009)
• Nance Place affordable housing community (109 units, mid-rise), Nashville, TN (LEED H)
• Private residences (3 custom homes, Collier Construction), Chattanooga, TN (LEED H)
• Private residence (Green Home), Joelton, TN (LEED H)
• Private residence (DPC Construction), Memphis, TN (LEED H)
• Private residence (E3 Innovate), Nashville, TN (LEED H)
• Private residence (Johnny McAlister), Nashville, TN (LEED H)
• Upper Cumberland Region Health Facility, Cookeville, TN (LEED NC v2.2)

Texas
• 2424 Sakowitz affordable housing development (166 studio units for low-income individuals, New Hope Housing), Houston, TX (LEED H)
• Austin Habitat for Humanity single-family affordable home, Austin, TX (LEED H)
• BP Helios Plaza, Houston, TX (LEED NC v2.2)
• Briarpark Green, Houston, TX (LEED CS v2.0)
• Cheyenne III, Webster, TX (LEED CS v2.0)
• Congo Street Green Initiative affordable home (bcWorkshop, renovation), Dallas, TX (LEED H)
• Cypresswood Estates senior housing community (88 units, combined affordable and market-rate), Houston, TX (LEED H)
• DART (Dallas Area Rapid Transit) Transit Police, Monroe Shops, Dallas, TX (LEED CI v2.0)
• Dell Children's Medical Center of Central Texas, Austin, TX (LEED NC v2.1)
• Discovery Tower, Houston, TX (LEED CS v2.0)
• Encore Wire Corporation R&D Center, McKinney, TX (LEED NC v2.2)
• FC Gulf Freeway Ltd, Houston, TX (LEED CS v2.0)
• Hines 717 building, Houston, TX (LEED EBOM)
• Hines MainPlace, Houston, TX (LEED CS v2.0)
• Jacob White Office Complex, Friendswood, TX (LEED CS v2009)
• Lubbock Christian University Welcome Center, Lubbock, TX (LEED NC v2.2)
• M-Station affordable housing development (150 units; Foundation Communities), Austin, TX (LEED H)
• McKinney Green Building, West World Holdings, McKinney, TX (LEED CS Pilot)
• NASA B-20 new office building, Houston, TX (LEED NC v2.1)
• Northeast Texas Community College Agricultural Complex, Mount Pleasant, TX (LEED NC v2.2)
• Plano Environmental Education Center, Plano, TX (LEED NC v2.2)
• Private residences (duplex, Stephen Jackson Construction), Alamo Heights, TX (LEED H)
• Private residence (Lake/Flato Architects), Alamo Heights, TX (LEED H)
• Private residence (KRDB), Austin, TX (LEED H)
• Private residence (Custom Building), Austin, TX (LEED H)
• Private residences (2 homes; Durrett Interests), Austin, TX (LEED H)
• Private residence (Stanley Architects), Austin, TX (LEED H)
• Private residence (Eco-Home), Boerne, TX (LEED H)
• Private residence (Ferrier Custom Homes), Cleburne, TX (LEED H)
• Private residence (GreenCraft Builders), Colleyville, TX (LEED H)
• Private residence (Ferrier Custom Homes), Crowley, TX (LEED H)
• Private residence (Hoffmann), Dallas, TX (LEED H)
• Private residence (Artex Development), Dallas, TX (LEED H)
• Private residences (two homes; Urban Edge), Dallas, TX (LEED H)
• Private residence (Larry Christensen General Contractors), Dallas, TX (LEED H)
• Private residence (CCM General Contractors), Dallas, TX (LEED H)
• Private residence (Greenbrook Homes), Dallas, TX (LEED H)
• Private residences (two homes; Ferrier Custom Homes), Fort Worth, TX (LEED H)
• Private residence (gut rehab, Building Solutions), Galveston, TX (LEED H)
• Private residence (GreenCraft Builders), Grapevine, TX (LEED H)
• Private residence (Dovetail Builders), Virginia Point, Houston, TX (LEED H)
• Private residence (Duecker Construction), Leon Springs, TX (LEED H)
• Private residence (GreenCraft Builders), Lewisville, TX (LEED H)
• Private residence (Sierra Homes), Mountain Home, TX (LEED H)
• Private residences (2 gut rehab units), San Antonio, TX (LEED H)
• Private residence (GreenCraft Builders), Shady Shores, TX (LEED H)
• Private residence, Weatherford, TX (LEED H)
• Richland College Science Building, Dallas, TX (LEED NC v2.2)
• Ronald McDonald House, Austin, TX (LEED NC v2.1)
• Shangri La Botanical Gardens & Nature Center, Orange, TX (LEED NC v2.1)
• University of North Texas Stadium Complex, Denton, TX (LEED NC v2.2)
• University of Texas at Dallas, Student Services Building, Richardson, TX (LEED NC v2.2)

Utah
• Architectural Nexus Design Center, Salt Lake City, UT (LEED NC v2009)
• Daybreak Corporate Center, South Jordan, UT (LEED CS v2.0)
• Private residence (Big Canyon Homes/Bertoldi Architects), Eden, UT (LEED H)
• Private residence (Tall Pines Construction), Park City, UT (LEED H)
• Salt Lake County Public Works Administration Building, Midvale, UT (LEED NC v2.2)
• Swaner Nature Center, Swaner Nature Preserve, Park City, UT (LEED NC v2.2)
• Utah Orthopaedic Center, Washington Terrace, UT (LEED NC v2.2)
• Utah State University's Wetland Discovery Point, Kaysville, UT (LEED NC v2.2)
• Utah Valley Planned Parenthood, Orem, UT (LEED NC v2.2)
• Westminster College Science Center, Salt Lake City, UT (LEED NC v2.2)

Vermont
• Marsh-Billings-Rockefeller National Historic Park: Mill Complex, Forest Center and Wood Barn, Woodstock, VT (LEED NC v2.2)
• Champlain College's Perry Hall, Burlington, VT (LEED NC v2009)
• Middlebury College's Franklin Environmental Center, Middlebury, VT (LEED NC v2.2)
• Private residence (Red House Construction), Burlington, VT (LEED H)
• Private residence (Huntington), Charlotte, VT (LEED H)
• The Putney School's Field House, Putney, VT (LEED NC v2009)

Virginia
• 6363 Walker Lane, Alexandria, VA (LEED CI v2.0)
• Blacksburg Motor Company renovation, Blacksburg, VA (LEED NC v2.2)
• Breakell Inc. Headquarters, Roanoke, VA (LEED EBOM v2009)
• The Burgess Group, Alexandria, VA (LEED CI v2009)
• Commonwealth II, Chantilly, VA (LEED CS v2.0)
• Cooper Vineyards, Louisa, VA (LEED NC v2.2)
• Dovetail Construction/D-Tail Plumbing, Richmond, VA (LEED NC v2.2)
• Fairfax Village, Ft. Belvoir, VA (LEED NC v2.2)
• Howard Hughes Medical Institute Research Campus residential expansion (60 units), Ashburn, VA (LEED H)
• JDM Office Space, Falls Church, VA (LEED CI v2.0)
• Moseley Architects, Richmond, VA (LEED NC v2.1)
• NASA Langley Research Center, Hampton, VA (LEED NC v2.2)
• Private residence (Metro Green), Arlington, VA (LEED H)
• Private residence (James River Air Conditioning Co.), Arlington, VA (LEED H)
• Private residence (University of Virginia School of Architecture), Charlottesville, VA (LEED H)
• Private residence (GreenSpur), Maclean, VA (LEED H)
• Private residence (Green Build It), Norfolk, VA (LEED H)
• Private residence (Hollyport Ventures), Richmond, VA (LEED H)
• Smith Aquatic Center, Charlottesville, VA (LEED NC v2.2)
• Two Potomac Yard, Arlington, VA (LEED EBOM v2009)
• University of Virginia's College at Wise, Science Building, Wise, VA (LEED NC v2.2)
• Virginia Commonwealth University (VCU) Rice Center Educational Building, Richmond, VA (LEED NC v2.2)

Washington
• 1201 Third Avenue, Seattle, WA (LEED EBOM)
• Adobe Systems, Seattle, WA (LEED EBOM)
• Ashworth Cottages (20 production homes, Pryde Johnson Urban Environments), Seattle, WA (LEED H)
• Bastyr University Student Village (11 dorms), Kenmore, WA (LEED H)
• Fenwick + West LLP, Seattle Office, Seattle, WA (LEED CI v2.0)
• Footprint at the Bridge townhomes (7-home development), Seattle, WA (LEED H)
• The Gee cooperative housing complex (Active West), Spokane, WA (LEED H)
• Kenyon House affordable low-rise multi-family housing development (18 studio units, Walsh Construction), Seattle, WA (LEED H)
• Lakeview Lofts (4 units, An Urban Company), Seattle, WA (LEED H)
• LOTT Clean Water Alliance's Regional Services Center, Olympia, WA (LEED NC v2.2)
• Natural Balance House single-family home (Ravenill Construction), Friday Harbor, San Juan Island, WA (LEED H)
• Pacific Plaza, Tacoma, WA (LEED CS v2.0)
• Park Place, Seattle, WA (LEED EB v2.0)
• PCC Natural Market, Edmonds, WA (LEED CI for Retail v1)
• Perkins + Will Office, Seattle, WA (LEED CI v2.0)
• Private residence (Coates Design), Bainbridge Island, WA (LEED H)
• Private residence (Aiki Homes), Bellingham, WA (LEED H)
• Private residence (Thomas Jacobson Construction), Bellevue area, WA (LEED H)
• Private residence (Natural Built Environments), Kirkland, WA (LEED H)
• Private residence (Seabrook Land Co.), Pacific Beach, WA (LEED H)
• Private residence (Mastro Properties), Seattle, WA (LEED H)
• Private residence (Quail Homes), Washougal, WA (LEED H)
• Rice Fergus Miller Office Building, Bremerton, WA (LEED NC v2009)
• Rushing Tenant Improvements, Seattle, WA (LEED CI v2.0)
• Salishan 7 affordable housing development (Walsh Construction), Tacoma, WA (LEED H)
• Salveo condos/townhouses (8 units, DB2), Seattle, WA (LEED H)
• Saranac Building Renovation (The Quiet Company), Spokane, WA (LEED NC v2.2)
• Shoreline Recycling and Transfer Station, King County Solid Waste Division, Shoreline, WA (LEED NC v2.1)
• Skagit Valley College, Science and Allied Health Building (Laura Angst Hall), Mount Vernon, WA (LEED NC v2.2)
• St. Martin's University, Cebula Hall Engineering Building, Lacey, WA (LEED NC v2009)
• Washington Public Utility District, Olympia, WA (LEED NC v2.1)
• Weber + Thompson Office TI, Seattle, WA (LEED CI v2.0)

Washington DC (District of Columbia)
• 700 Sixth Street, Washington, DC (LEED CS v2.0)
• 1200 Nineteenth St NW, Washington, DC (LEED CS v2.0)
• 1225 Connecticut Avenue, Washington, DC (LEED CS v2.0)
• ACS, Washington, DC (LEED EBOM v2009)
• American Society of Hematology, Washington, DC (LEED NC v2.2)
• Bechtel, Inc. Government Affairs Office, Washington, DC (LEED CI v2.0)
• BP America, Inc. Offices, Washington, DC (LEED CI v2.0)
• Group Goetz Architects (GGA) Office, Washington, DC (LEED CI v2.0)
• IFC Headquarters Building, Washington, DC (LEED EBOM v2009)
• Lafayette Tower, Washington, DC (LEED CS v2.0)
• One Constitution Square and Two Constitution Square, Washington, DC (LEED CS v2.0)
• Perkins + Will interior fit-out, Washington, DC (LEED CI v2009)
• PNC Place interiors, Washington, DC (LEED CI v2.0)
• Private residence (gut rehab, A. Levin), Washington, DC (LEED H)
• Private residence (gut rehab, Landis Construction), Washington, DC (LEED H)
• RTKL Office, Washington, DC (LEED CI v2.0)
• Shell Oil Company Offices, Washington, DC (LEED CI v2.0)
• Sidwell Friends Middle School, Washington, DC (LEED NC v2.1)
• The Solidago condos (3 units, gut rehab renovation), Petworth, Washington, DC (LEED H)
• TD Bank Constitution Square interiors, Washington, DC (LEED CI v2009)
• USGBC National Headquarters, Washington, DC (LEED CI v2.0 and v2009 recertification)
• WWF (World Wildlife Fund) 1st Floor Office Renovation, Washington, DC (LEED CI v2009 and LEED EBOM ?)

West Virginia
• Private residence (Davis, Pickering & Co.), Williamstown, WV (LEED H)

Wisconsin
• 800 University Bay Drive, Shorewood Hills, WI (LEED CS v2.0)
• The Aldo Leopold Legacy Center, The Aldo Leopold Foundation, Baraboo, WI (LEED NC v2.1)
• Beloit College Center for the Sciences, Beloit, WI (LEED NC v2.2)
• Benedictine Women of Madison, Madison, WI (LEED NC v2.2)
• Concordia University's Center for Environmental Stewardship, Mequon, WI (LEED NC v2.2)
• Gateway West Sustainable, Brookfield, WI (LEED NC v2.2)
• Hunzinger Construction H2 Training Center and Warehouse, Brookfield, WI (LEED CI v2.0)
• Johnson Controls Glendale: Amenities Building, Building 2, Building 3, and P Solutions, Glendale, WI (LEED NC v2.2)
• Lake Mills Middle School, Lake Mills, WI (LEED for Schools v2.0)
• Madison Fire Station 12, Madison, WI (LEED NC v2.2)
• OS House (private residence; Johnsen Schmaling Architects), Racine, WI (LEED H)
• Private residence (Hunzinger Construction Co.), Merton, WI (LEED H)
• Ross Street House (private residence), Madison, WI (LEED H)
• Transwestern Sustainability Services, Milwaukee, WI (LEED CI v2009)
• University of Wisconsin Madison's School of Education building, Madison, WI (LEED NC v2.2)
• Wisconsin Department of Natural Resources' Mead Wildlife DNR Headquarters and Education Center, Milladore, WI (LEED NC v2.1)

Wyoming
• Cheyenne Botanic Gardens, Children's Village, Cheyenne, WY (LEED NC v2.2)
• Laurance S. Rockefeller Preserve, Grand Teton National Park, Moose, WY (LEED NC v2.1)

Puerto Rico
• Standard Refrigeration Company, Inc., San Juan, Puerto Rico (LEED NC v2.1 and LEED EBOM)


---
---

Beyond the U.S., there are now LEED Platinum-rated projects in 24 other countries (so far): Australia, Brazil, Canada, China, Finland, France, Germany, Great Britain, Hong Kong, India, Italy, Japan, Mexico, the Netherlands, Saudi Arabia, South Korea, Spain, Sri Lanka, Sweden, Switzerland, Taiwan, Thailand, Turkey, and the United Arab Emirates.

AUSTRALIA
• Cundall Sydney Office Fitout, St. Leonards, Australia (LEED CI v2.0)
• Pixel building, Carlton, Melbourne, Victoria, Australia (LEED NC v2009)

BRAZIL
• Eldorado Business Tower, Sao Paulo, Brazil (LEED CS v2.0)

CANADA
• Air Transat Head Office, Montreal, Quebec, Canada (LEED EBOM)
• Discovery Park Building 12, Burnaby, British Columbia, Canada (LEED CS v2.0)
• Dockside Green residential development (Phase 1), Victoria, British Columbia, Canada (LEED Canada NC v1)
• Dockside Green neighborhood development (multiple buildings), Victoria, British Columbia, Canada (LEED ND, Stage 2)
• Dockside Green (Phase 1), Victoria, British Columbia, Canada (LEED CS v2.0)
• Private residences (2 homes, Greystone Construction), Dwight, Ontario, Canada (LEED H)
• Private residence (Reid's Heritage Homes), Guelph, Ontario, Canada (LEED H)
• Private residence (Terra View Homes), Guelph, Ontario, Canada (LEED H)
• Private residence (Kinburn Properties), Lunenburg County, Nova Scotia, Canada (LEED H)
• Private residences (2 production homes, Rodeo Fine Homes), Newmarket, Ontario, Canada (LEED H)
• Private residence (Minto Communities home), Manitock, Ontario, Canada (LEED H)
• Private residences (duplex major renovation), Montreal, Quebec, Canada (LEED H)
• Private residence (Okanagan Sustain Homes), Vernon, British Columbia, Canada (LEED H)
• Southeast False Creek Neighbourhood / Olympic Village, Vancouver, British Columbia, Canada (LEED ND, Stage 2)
• University of Waterloo student residences (6 units; mid-rise), University Ave., Waterloo, Canada (LEED H)
• Vancouver Convention Centre West, Vancouver, British Columbia, Canada (Canada LEED NC)

CHINA
• Arc8X Design office, Shanghai, China (LEED CI v2.0)
• Avon Shanghai Regional RD Center, Shanghai, China (LEED CI v2009)
• Bloomberg Shanghai, Shanghai, China (LEED CI v2009)
• Coca Cola Bottlers Manufacturing Co. Office, Dongguan, China (LEED CI v2009)
• DNA GreenDesign interiors, Shanghai Centre, Shanghai, China (LEED CI v2.0)
• The Green Building Museum of Hangzhou, Hangzhou, China (LEED NC v2.2)
• InterfaceFLOR China Office, Taicang, China (LEED CI v2009)
• Nike China Logistics Center, Taicang, China (LEED NC v2.2)
• Parkview Green Beijing, Beijing, China (LEED CS v2.0)
• Pratt & Whitney / China Eastern Airlines Engine Maintenance Company, Shanghai, China (LEED NC v2.2)
• Shanghai Garden, Lane B1, Shanghai, China (LEED CS v2.0)
• Shenzhen Vanke Headquarters, Shenzhen, China (LEED NC v2.2)
• Swire Coca-Cola Plant Luohe, Zhengzhou, China (LEED NC v2009)
• World Financial Centre, Beijing, China (LEED CS v2.0)
• York Air Conditioning and Refrigeration Multi-Function Building interiors, Wuxi, China (LEED CI v2009)

FINLAND
• Lintulahdenvuori, Toimitalohanke, Helsinki, Finland (LEED CS v2.0)

FRANCE
• Starbucks Paris, Disney Village, Chessy, Marne La Vallee, France (LEED for Retail CI v1)

GERMANY
• An den Bruecken MK1 (PMG Premium Green), Munich, Germany (LEED CS v2009)
• Citi Data Center, Frankfurt, Germany (LEED NC v2.2)
• Deutsche Bank Greentowers (Project Blue), Frankfurt, Germany (LEED NC v2.2)
• Neubau Buerogeb (Lang & Gross), Mergenthalerallee, Eschborn, Germany (LEED NC v2.2)
• Zwei-Scheiben-Hause, Ratingen, Germany (LEED CS v2.0)

GREAT BRITAIN
• Bloomberg offices, 38 Finsbury, London, England (LEED CI v2009)
• Project Dart Data Centre, Slough, England (LEED NC v2.2)

HONG KONG
• Bloomberg offices, central Hong Kong (LEED CI v2009)
• Jones Lang LaSalle, Hong Kong (LEED CI v2009)

INDIA
• ABN Amro Bank, Navrangpura, Ahmedabad, India (LEED CI v2.0)
• BG House, BG Exploration and Production India Limited, Mumbai, India (LEED NC v2.1)
• Burt Hill India office interiors, Ahmedabad, India (LEED CI v2.0)
• Cisco B4, Bangalore, India (LEED CI v2009)
• Cisco VTV, Bangalore East Taluk, India (LEED CI v2.0)
• Citibank N A, Mumbia, India (LEED CI v2009)
• Confederation of Indian Industry (CII) Sohrabji Godrej Green Business Centre, Hyderabad, India (LEED NC v2.0)
• GMC Nirlon Project (Deutsche Bank), Mumbaid, India (LEED CI v2009)
• HCL Infosystems Green Data Center, Noida, India (LEED CI v2009)
• HSBC Baroda, Vadodara, India (LEED CI v2009)
• HSBC House-Finance COE, Phase 1, Gurgaon, Haryana, India (LEED CI v2.0)
• HSBC Software Development, GLT 5, Pune, India (LEED CI v2009)
• Infinity Benchmark Infotech Park, Kolkata, India (LEED CS v2.0)
• IT Park, Bhubaneshwar, India (LEED NC v2.2)
• ITC Green Centre, Gurgaon, Haryana, India (LEED NC v2.1 and LEED EBOM v2009)
• ITC The Grand Central Hotel, Mumbai, India (LEED EBOM v2009)
• ITC Kakatiya Hotel, Hyderebad, India (LEED EBOM v2009)
• ITC The Maratha Hotel, Mumbai, India (LEED EBOM v2009)
• ITC Maurya Hotel, New Delhi, India (LEED EBOM v2009)
• ITC The Mughal Hotel, Agra, India (LEED EBOM v2009)
• ITC Rajputana Sheraton Hotel, Jaipur, India (LEED EBOM v2009)
• ITC Sonar Hotel, Kolkatta, India (LEED EBOM v2009)
• ITC Windsor Hotel, Bengaluru, India (LEED EBOM v2009)
• Kalpataru Square, Mumbai, India (LEED CS v2.0)
• LEAD Consultancy and Engineering Services' EMC Phase 2, Bangalore, India (LEED CI v2009)
• LEAD Consultancy and Engineering Services' Northern Operating Services Ph2 3, Bangalore, India (LEED CI v2009)
• Meritron Infotech Green Boulevard, Noida, India (LEED CS v2.0)
• Paharpur Business Centre, New Delhi, India (LEED EBOM)
• Royal Dutch Shell Business Service Center, Phase 1 and Phase 2, Chennai, India (LEED CI v2.0)
• Royal Dutch Shell Business Service Center, Phase 3, Chennai, India (LEED CI v2009)
• Space Matrix office, New Delhi, India (LEED CI v2.0)
• Spectral Consultants Services Ltd. Corporate Office, Noida, India (LEED NC v2.2)
• Technology Block, Surat, India (LEED NC v2.2)
• Turbo Energy Limited, Chennai, India (LEED NC v2.2)
• Wipro Ltd. Software Development Centre, Gurgaon, Haryana, India (LEED NC v2.1)

ITALY
• SEGRO Vimercate Energy Park, Building 3, Vimercate, Italy (LEED CS v2.0)

JAPAN
• Iino Lines Head Office, Chiyodaku, Japan (LEED CI v2009)

MEXICO
• Oficinas Bioconstruccion (Green Building & Alternative Energy), Garza Garcia, Mexico (LEED NC v2.2)

NETHERLANDS
• TransPort, Schiphol Ooost, Netherlands (LEED CS v2.0)

SAUDI ARABIA
• King Abdullah University of Science and Technology (KAUST) Campus, Thuwal, Saudi Arabia (LEED NC v2.2)

SOUTH KOREA
• Korea Samsung Green Tomorrow, Gyeonggi-Do, South Korea (LEED NC v2.2)
• SK Chemicals Eco Lab, Seongnam-Si Boon-Dang Gu, South Korea (LEED NC v2.2)

SPAIN
• Polideportivo San Ignacio, Bilbao Kirolak, Bilbao, Spain (LEED NC v2009)
• Starbucks Palace interior, Madrid, Spain (LEED CI v2.0)

SRI LANKA
• Brandix Casualwear Ltd., Seeduwa, Sri Lanka (LEED EB v2.0)
• MAS Intimates Ltd. Thurulie Factory, Thulhiriya, Sri Lanka (LEED NC v2.2)

SWEDEN
• Kv Mastaren, Kalmar, Sweden (LEED NC v2.2)
• Liljeholms Torget, Stockholm, Sweden (LEED CS v2.0)
• Osterport 7, Malmo, Sweden (LEED EBOM v2009)
• Remulus Garda (Skanska Fastighete) Kontorscenter, Gothenburg, Sweden (LEED CS v2.0)

SWITZERLAND
• CPW (Cereal Products Worldwide) Product Technology Centre, Orbe, Switzerland (LEED NC v2.2)

TAIWAN
• AU Optronics Corporation TFT/LCD Fab L8B, Taichung, Taiwan (LEED NC v2009)
• Green Magic School NCKU, Tainan, Taiwan (LEED NC v2.2)
• TAIPEI 101 Tower (Taipei Financial Center Corp.), Taipei, Taiwan (LEED EBOM v2009)

THAILAND
• Energy Complex, Bangkok, Thailand (LEED CS v2.0)

TURKEY
• BASF Construction Chemicals Laboratories, Gebze, Turkey (LEED NC v2009)
• Eser Holding Headquarters, Ankara, Turkey (LEED NC v2009)

UNITED ARAB EMIRATES
• Bloomberg Dubai, Dubai, UAE (LEED CI v2009)
• The Change Initiative store, Dubai, UAE (LEED CI for Retail v2009)
• ESAB Middle East FZE, Dubai, UAE (LEED NC v2.2)
• Pacific Controls Headquarters, Dubai, UAE (LEED NC v2.1)
• TECOM Investments Management Office Renovation, Dubai, UAE (LEED CI v2.0)
• TLM International FZE, Dubai, UAE (LEED NC v2.2)


---
LEED Rating Systems
LEED CI = LEED for Commercial Interiors
LEED CS = LEED for Core & Shell
LEED EB = LEED for Existing Buildings
LEED EBOM = LEED for Existing Buildings: Operations & Maintenance
LEED H = LEED for Homes
LEED NC = LEED for New Construction (and Major Renovations)
LEED ND = LEED for Neighborhood Development



Custom Search
---